Caesars Arkansas Sportsbook Review: Promotions and Risk-Free Bets
Caesars Arkansas Sportsbook will be one of the first to launch when online sports betting in Arkansas is live, which will happen in time for March Madness.
Our review of Caesars Arkansas Sportsbook will analyze what we like about it, where we believe they can improve, and all you need to know about the sportsbook that will have you ready to bet online when it ultimately launches, likely in March 2022.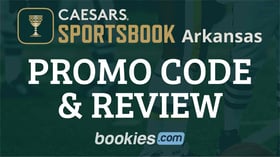 It doesn't get much better than free money. And that's what Caesars Sportsbook Arkansas will offer all new players once it launches in Arkansas. We expect all new bettors will receive a first bet on Caesars of up to $1,250. Caesars AR Sportsbook will match your first wager, if it loses, with the original amount wagered in the form of a free bet. It's arguably the best sign-up promo code in the industry, and all Arkansas bettors will have access to it.
Pros and Cons
Pros
Expected excellent sign-up bonus of up to $1,250 on Caesars
Well-organized desktop and mobile app makes it easy to bet
Great customer service
Cons
No real contests or tournaments
Rewards program can be difficult to understand
Caesars AR Sportsbook: Overview
Caesars Sportsbook Arkansas will be one of the first operators to apply for a license in the state, and it will have a land-based casino attached to it. A decision could come sooner than later, so Arkansas bettors will want to keep their eyes peeled on Bookies for further updates.
Caesars Arkansas Sportsbook Bonus and Sign-Up Offers
We expect Caesars Sportsbook Arkansas to be one of the first operators to go live in the state. When that happens, we also expect that bettors will have access to one of the best sign-up bonuses in the industry. Caesars' current promotion is up to $1,250 on Caears plus 1,000 Tier Credits plus 1,000 Reward Credits. That means that if wager loses, bettors will receive their initial amount wagered (up to $1,250) back in the form of a free bet. It's the best promotion in the sports betting industry. Bettors in the state will have access to it as soon as they sign up and use the Caesars Sportsbook Arkansas promo code.
Caesars Sportsbook Promo Codes Arkansas
| | |
| --- | --- |
| 🎁 Caesars Sportsbook Promo Code Arkansas | BOOKIESFULL (Expected) |
| 🖊️ Caesars Arkansas Sign Up Offer | Up To $1,250 On Caesars + 1000 Tier Credits + 1000 Reward Credits (Expected) |
| ⭐ Who will be Eligible | 21+ and located in Arkansas |
| 💳 Minimum Deposit | $20 |
| ⌚️Withdrawal Time | Instant - 4 business days |
| 💰 Wagering Requirement: | 1x |
| ✅ Verified On | Mar 25 2023 |
$200 Sign-Up Bonus
It's unknown yet what sort of other bonus codes Caesars Arkansas Sportsbook will have, but there may be some sort of promotion for bettors who sign up early once the sportsbook app and website launch. Bookies will have complete coverage of the most up-to-date promotions to make the most of your Caesars Arkansas experience.
Staple Features of Caesars Sportsbook AR
Most legal sports betting websites and mobile apps have the following features, but it's still great to see Caesars Arkansas Sportsbook provide these to its players.
Live Sports Streaming
As of December 2022 Caesars Sportsbook offers live streaming of all NFL games and Caesars Arkansas Sportsbook will most likely follow the same path. You should be able to watch your favorite NFL teams through Caesars Arkansas app on your mobile or tablet devices. You will have to fund your account and have at least one settled wager in the previous 10 months after which you'll be able to explore all games through Watch & Bet feature.
Live Sports Wagering
Live betting continues to gain popularity in all major markets, and that's great news for Caesars Arkansas Sportsbook bettors. Both the desktop website and sportsbook app are great for live betting. Odds change quickly and clearly, response rate on submitting bet slips is quick, and there are odds for all major market games. Our experience live betting with Caesars Arkansas is better than any other sportsbook we've reviewed.
Early Bet Cash Outs
There are times when bettors want to avoid a backdoor cover, salvage a loss, or simply use their funds elsewhere. They'll have have that option at Caesars Sportsbook Arkansas, which offers early bet cashouts on most bets in progress. The amount you're able to cash out differs based on the likelihood of the outcome, but it is almost always available, even if it's just a few bucks.
Same Game Parlays
Caesars Sportsbook Arkansas will provide bettors with same-game parlays, which allows bettors to combine individual bets from the same game to form a parlay. It's a perk that sportsbooks are offering more regularly, and we're glad to see that Caesars Arkansas Sportsbook is one of those adding them.
Frequency of Odds Boost
Because Caesars Arkansas Sportsbook is such a large brand, they hand out plenty of odds boosts over the course of the sports calendar. The most popular events that get odds boosts are nationally-televised events like March Madness and the Super Bowl.
Caesars Mobile App for Arkansas Sports Bettors
Caesars Sportsbook Arkansas provides players with an outstanding mobile betting app that looks and acts in a similar fashion to its desktop website counterpart. It functions smoothly, which makes it great for live sports betting, bet slips take up minimal space on the screen, and everything that's available on the desktop is available on the mobile app. We really have no issues with what the mobile app offers, and it's available for both Apple and Android users.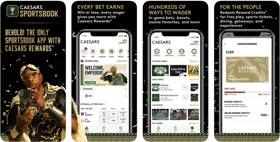 How Caesars AR Sportsbook Compares to Other Arkansas Sportsbooks
Arkansas bettors will have choices when online sports betting launches in the state. While this is a Caesars Arkansas sportsbook review, it's important to note how it compares to other options that bettors will have to choose from eventually.
Caesars Sportsbook vs. FanDuel Sportsbook
Caesars Sportsbook Arkansas rewards program can be used with the online sportsbook or at any Caesars location around the country. That's a stark difference from FanDuel, which still does not have a loyalty program for its online sportsbook. FanDuel Sportsbook has a daily fantasy sports presence that Caesars Arkansas Sportsbook doesn't have, but the online sportsbook doesn't really compare.
Caesars Sportsbook vs. DraftKings Sportsbook
DraftKings Sportsbook and Caesars Arkansas Sportsbook are two of the top sportsbooks in the industry. Bettors will enjoy DraftKings' free-to-play contests and tournaments that give them a change of pace from traditional sports betting. That's something that Caesars Arkansas Sportsbook does not offer at the moment.
Caesars Sportsbook vs. BetMGM Sportsbook
Caesars Sportsbook and BetMGM are two of the best options for bettors, in part because of their great promotions and rewards programs. That said, Caesars Arkansas Sportsbook will feature the most organized and best laid out sportsbook in the industry. If ease of use and navigation is important to your experience, Caesars Arkansas Sportsbook is the way to go. However, BetMGM Sportsbook also has plenty of pros and I would give them a try as well.
Sports Betting Markets with Caesars Sportsbook Arkansas
Though Caesars Arkansas Sportsbook is not yet live, we're confident that they will offer sports betting markets similar to what we've seen in other states. And that's good news, considering Caesars Sportsbook AR current offers 15 different sports for its players to bet on. It includes the popular sports like football, baseball, and basketball, but they also offer sports betting markets such as rugby, cricket, darts, and boxing. There will be something for everyone to bet on at Caesars Sportsbook Arkansas.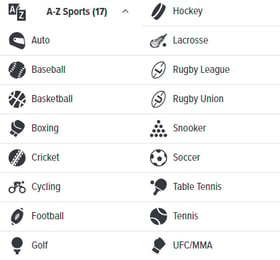 Razborback fans will get their fix all fall with bets on Arkansas football, and they'll have the chance to bet on other SEC teams, the NFL, and the NBA, too. But they'll also have the chance to go off the beaten path and place bets on golf tournaments, tennis matches, and much more. Caesars Arkansas has found markets for all bettors.
Types of Bets Available with Caesars AR Sportsbook
There are dozens of types of bets you can make when online sports betting. It can feel overwhelming at times given that the most popular sports betting markets contain hundreds of different options within a single game. That's why we've narrowed down the most popular forms of bets you're likely to make with Caesars Arkansas Sportsbook.
Moneyline
A moneyline bet is simply a wager on which team will win the game. Bettors will need to place more money on favorites because they are expected to win. For example, a -300 favorite would require a $300 bet to earn $100 profit. On the other side, underdogs are not expected to win, so they yield higher payouts. For example, a +225 favorite would yield $225 on a $100 bet.
Spread Bets
The most common form of legal sports betting is on the spread. Oddsmakers set a spread to even the playing field between two teams, with the favorite giving points to the underdog, which receives points. If Arkansas football is -6.5 against the Ole Miss Rebels, the Razorbacks would need to win by 7 or more points in order to cover the spread. If Ole Miss lost by 6 or fewer, or won the game, they would cover the spread. All spreads, whether plus or minus, have between -105 and -115 odds.
Parlay Bets
Parlay bets are both riskier and potentially more profitable. It takes two or more individual bets and combines them into a higher set of odds, with the caveat being that all legs of this combination must be successful in order for the parlay to pay out. For example, a parlay on the Razorbacks to cover -7.5 and LSU to cover +3.5, both with -110 odds, would pay out +264 if both bets were successful.
Total Lines
Oddsmakers set a total for all matchups, and bettors can place wagers on whether the actual number of combined points between two teams will be more (the over) or less (the under) than that set total. An example would be Arkansas-LSU having a total of 47.5. A final score of 23-21 (44) would mean that under bettors were victorious.
Futures Betting
A futures bet is a wager on a season-long proposition. There are individual and team future bets. Popular individual bets include league MVP, Heisman Trophy winner, Sixth Man of the Year, and Defensive Player of the Year. Team props include over-under win totals, conference champions, and whether a team will or won't make the postseason. NFL futures are the most popular futures out there and we have you covered with updated odds. These odds change over the course of the season, so bettors can make these bets from before the season begins all the way up until when the bet is decided.
Prop Bets
A prop bet is a wager on the occurrence or non-occurrence of something during a game. There are team props and player props. An example of a team prop is how many touchdowns the Arkansas Razorbacks will score against Alabama. An example of a player prop is how many points Zion Williamson will score against the Lakers. Top betting sites like Caesars Sportsbook Arkansas have hundreds of prop bets on most games in major markets.
How to Register for a Caesars Arkansas Account
There's nothing worse than needing to jump through hoops just to sign up for a sportsbook account. That's why Caesars Sportsbook Arkansas has made registering a simple four-step process that will have your account up and running in no time. Here's what you'll need to do:
Provide your name, phone number, email address, and and birthday
Choose a strong password and give answers to two security questions, and provide the last four digits of your Social Security number to verify you are 21 years old
Provide your mailing address, any Caesars Arkansas promo code you have, and a Caesars Rewards number if applicable
Deposit funds and place your first risk-free bet!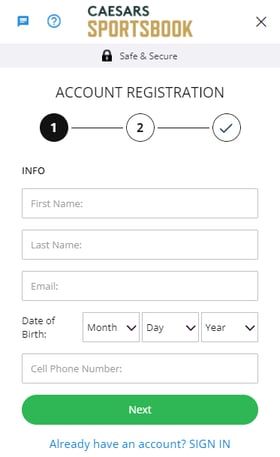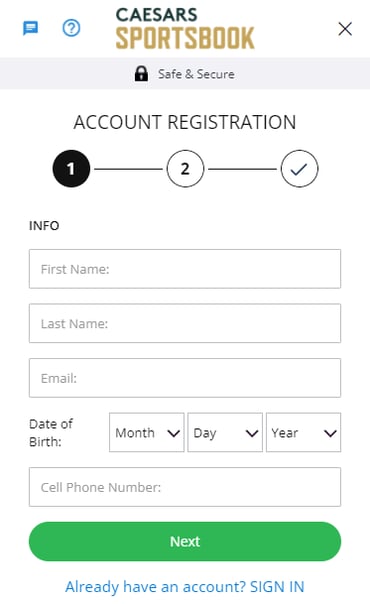 Caesars Sportsbook AR Payment Options
One of the main benefits of using a legal and licensed sportsbook is the ease of banking. There's nothing worse than having to wait to use the funds you've deposited or having to refresh your bank account when you withdraw funds to see when it processes. With Caesars Sportsbook Arkansas, both will be done much quicker than using offshore accounts, giving you both peace of mind and your funds.
Making Deposits
You're going to need to deposit funds in order to play at Caesars Arkansas Sportsbook. Bettors have these options available to put money into their account: PayNearMe, Skrill, online bank transfers, PayPal, Play+ Prepaid cards, credit/debit cards or eCheck. This is a pretty exhaustive list and every player should be able to choose from this list and find one that suits them best. Bettors will also be able to deposit funds at the land-based casino attached to Caesars Arkansas Sportsbook. Even better, most of these options will make funds available immediately, so you'll be betting shortly after depositing.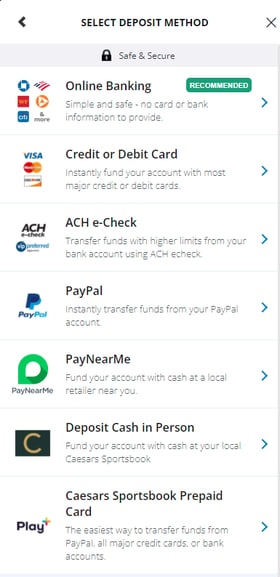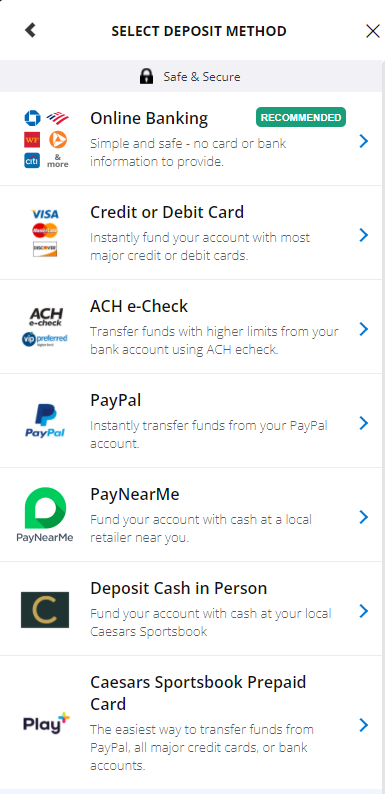 Making Withdrawals
Congratulations on your big win at Caesars Sportsbook Arkansas! Now it's time to withdraw your funds. You're in luck, as they offer the same options for withdrawal as they do for deposits. The website and mobile app mention that withdrawn funds are typically available within 72 hours, but in our experience it's been much shorter than that. Most players will have their funds the same day they take their money out. It feels like a small thing, but simple banking goes a long way, and Caesars Sportsbook Arkansas does a great job.
Caesars Arkansas Payout Options
| | |
| --- | --- |
| 💳 Caesars PayPal Withdrawal Time | Same Day |
| 💳 Caesars Online Banking Withdrawal Time | 1-3 Business Days |
| 💳 Caesars Play+ Card Withdrawal Time | Instantly at Participating ATMs |
Caesars Sportsbook Rewards
There's good and there's bad when it comes to Caesars Arkansas Sportsbook rewards. The good is that they do exist, with four different leveled tiers that players can reach based on the amount of money they're wagering at the sportsbook. This earns sports bettors perks such as free bets, access to Caesars Entertainment events and restaurants, and much more. The bad news is that it's difficult to find on the website and mobile app. It's not easily accessible and it's tough to know how many rewards points you have and how to redeem them. We won't knock Caesars too badly for it, but other top online sportsbooks we've reviewed make the loyalty rewards system simple to understand and use. That's not really the case with Caesars Arkansas.
Caesars Arkansas Sports Betting App
At its core, the best mobile sports betting apps are ones that make players feel like they're still on the desktop version of the sportsbook (or vice versa). That's certainly the case with Caesars Sportsbook Arkansas and the Caesars sportsbook AR app, which features the same color scheme and fonts as its desktop counterpart. The layout is a bit different because of the app dimensions, but it is still segmented the same with different sections for available sports betting markets, live markets, and bet slips and account information. We'll add here that the response rate of the mobile app is one of the best we've come across, which is critical when performing in-game betting. Online betting is only as good as your ability to actually place bets, and Caesars Sportsbook Arkansas aces the test in that regard. The mobile app is available for both Apple and Android users.
Desktop Interface for Caesars Arkansas Sportsbook
The Caesars Arkansas Sportsbook desktop website is admittedly a bit loud when you first log on. The marketing and advertising for the sportsbook is pretty heavy, and it's easy to feel a bit overwhelmed by everything going on. The good news is once you're logged in and ready to bet, the layout is as simple, as clean, and as well organized as any online sportsbook we've reviewed. All 18 online sports betting markets are listed on the left side of the home screen, bet slips populate on the right rail, and your active markets or live betting options are front and center on the screen. Promotions, account information, and help sections sprawl across the top banner of the home page, and it's simple to navigate from one screen to the next. The green and white color scheme is inviting, and there's not too much packed into one screen like we see on some sportsbooks.
Caesars Sportsbook AR Customer Support Methods
Betting with an operator as large as Caesars Sportsbook Arkansas means very few player issues. The desktop website and mobile sports betting app run smoothly with very few glitches, bets are settled quickly, and withdrawals and deposits are easily accessible. But no technology runs perfectly all the time, which is why Caesars Arkansas has multiple customer support options to help players who have any issues with the online sportsbook. Those options include an excellent 24/7 live chat function, email address and phone number for less pressing issues, and a Help section on the website if you'd like to resolve the problem yourself. This is as good as it gets when it comes to customer support with Arkansas sports betting.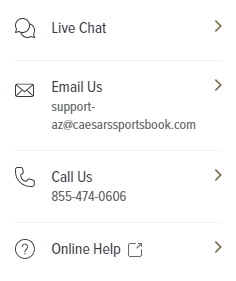 Caesars AR Sportsbook Safety and Security
It's natural for players to be nervous about providing valuable personal information like your address, Social Security number, and banking. But that's why we recommend betting with legitimate online betting sites such as Caesars Arkansas. They take extra cautionary measures to secure all information, and all gaming and odds are regulated by the state. We always believe in making strong passwords and not sharing them with anyone, but bettors can feel safe knowing all their information is secure with Caesars.
Caesars Sportsbook AR Retail Sports Betting in Arkansas
All online sportsbooks have an accompanying retail casino attached to it. Because Caesars Sportsbook Arkansas is not yet live, it's unknown which land-cased casino will accompany the launch of the online sportsbook. That should become clearer once online sports betting in the state is legalized, which could happen in the coming months.
Responsible Sports Betting in AR
Arkansas sports betting will be an enjoyable experience for all as long as it's done safely and responsibly. Chasing losses, doubling down, and betting more than you can afford to lose are habits that we want to see all players avoid, and Caesars Sportsbook Arkansas is no different. They've put together a comprehensive list of resources to make sure bettors are able to play responsibly and to get help if they feel like they aren't.
Caesars Sportsbook AR and Responsible Gambling
Caesars Arkansas Sportsbook proudly displays its Responsible Gaming badge on the home page of its website. Clicking on that badge brings players to a new page that offers a list of resources for players who believe they may have a gambling problem, an FAQ on problematic signs, a questionnaire to determine if your gambling habits are troublesome, and instructions on how to set time and spending limits on your account. It's an exhaustive compilation of helpful resources for those experiencing a gambling problem. Our only qualm with the page is that it can feel a bit overwhelming. Information overload can have a reverse effect on players looking for help.
The Verdict on Caesars AR Sportsbook
Arkansas sports betting is going to arrive soon. And when it does, bettors would be wise to add Caesars Arkansas Sportsbook to the online sportsbook Rolodex. All different types of bettors will find something to enjoy at one of the best online sportsbooks in the country. A hearty welcome bonus, competitive odds, and a seamless, enjoyable user experience create an outstanding online sports betting atmosphere for all its players. Even better, we feel like Caesars Arkansas is just getting started. As their brand continues to grow, we expect to see even more lucrative promotions, more contests and tournaments, and more perks for its players. Simply put, it's going to be hard to top Caesars online sportsbook when it comes to Arkansas sports betting.
Caesars Sportsbook States
Caesars Sportsbook Arkansas FAQ
When will Caesars Sportsbook launch in Arkansas?
Arkansas sports betting
will launch in time for
March Madness
after the joint budget committee approved a 51% revenue sharing rule. There hasn't been a word on when Caesars Arkansas will launch, so keep this page bookmarked for updates.
Does Caesars Sportsbook Arkansas offer legal sports betting?
Caesars online sportsbook is not live in Arkansas yet, but it could launch sometime in the early part of 2022 now that Arkansas mobile sports betting has been legalized.
Does Caesars Sportsbook offer risk-free bets in Arkansas?
Yes, Caesars Sportsbook Arkansas will offer either a risk-free bet or a first bet match to new bettors who sign up and use a Caesars Arkansas sportsbook promo code. Bettors can also earn a free bet in addition to other promotions if they rack up enough Caesars rewards points.
Can I bet on college sports with Caesars Arkansas Sportsbook?
Yes, bettors at Caesars Arkansas Sportsbook will be allowed to bet on college sports, including games that are played in the state or Arkansas and involve teams based in Arkansas.
Does Caesars Sportsbook Arkansas offer live betting?
Yes, Caesars Arkansas Sportsbook will offer live betting on most major sports betting markets. Caesars Arkansas is one of the premier online sportsbooks when it comes to live betting thanks to its quick response rate on the website and mobile app.
Does Caesars Sportsbook AR offer an online casino?
The expectation is that the Arkansas sports betting bill will not include online casinos. This means that Caesars Arkansas Sportsbook will not offer an online casino.
How are sportsbook winnings in Arkansas taxed?
Any profit that bettors make at Caesars Sportsbook Arkansas is considered taxable income and will need to be declared as such. Check with a tax expert for how to accurately declare those winnings.
About the Author
Mark is a veteran sports betting journalist who has covered the Bulls and the NBA since 2012. His work has appeared on ESPN.com, FoxSports.com, The Chicago Tribune and Yahoo Sports. He regularly provides NBA betting picks, as well as in-depth sportsbook reviews and the latest promo codes for all the major sports gambling operators, including Caesars Sportsbook, BetMGM, DraftKings, FanDuel and more.